Dear Lady Bug,
We took you to the "No Scare Fair" last Saturday. I know you wouldn't really understand Halloween. The joys of getting a full sized Snickers bar and grape Now and Laters but I wanted to socialize you. I put on your black undershirt and squeezed you in black tights because I couldn't put on your Lady Bug costume and strap you into the carseat. It was too padded.
I dressed you in your outfit when we arrived in the backseat. All the little children came to talk you to and you ate it up. You have always loved other children.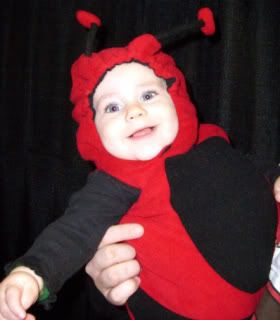 You loved looking at all the black and orange balloons. Since you are crawling, you want to get down and explore things. I took you to the stage where other children were dancing and showing off their costumes and you got to explore and do the crawl/rock to the music.
You met a little friend, she was adorable in her Minnie Mouse costume and you two matched with your black and red costumes. She loved to hold on to your antenna.
We took a few pictures with you before we left. Instead of candy, your Halloween treat was going to the chinese restaurant. Your very favorite food right now is tofu from my Hot and Sour soup. You are a Mama's girl and I hope you'll always choose tofu over Twix in the future.
Happy Halloween, my little Love Bug,
Mama